Personalised Greatest Dad in the World Book
info_outline How soon can I get this delivered?
local_shipping
Dispatches in

2

working day

s
access_time Express Delivery: Wednesday, 13 December Thursday, 14 December
local_shipping Standard Delivery: Thursday, 14 December Friday, 15 December
public International Delivery Available
For the best Dad in the world - our personalised story book celebrates all the reasons he's King of Dads!
Tips on writing the story
The story is rhyming and written on behalf of the child.


Select 1 child for all text to say I, my, etc. Select More than 1 for siblings for text to say We, our.


The child's name will be shown as the author and on the last page (e.g. love from George)


Your family surname is included - if there's more than one surname, just add a hyphen eg: Harrison-Maxwell.



On the inside front cover we print a personalised message so they can treasure the book as a keepsake in years to come e.g., "Happy Father's Day 2021 - love from Jonah".
The story below if for more than 1 child. If you select a single child, all text will change to I, me etc.
King of Dads by (children's names)
Dear Dad, you are amazing, and we want you to know... thank you for being there and helping us grow.
You are the King of Kindness, the Emperor of Endeavours, our Guardian of Goodness and the Captain of Clever.
You are stylish and handsome, you're no fashion fool. You are simply amazing, the Champion of Cool.
You are knowing and clever and help us each day, by teaching us lessons in your unique way.
We will always listen to your sound advice... as you teach us to live an even better life.
You are our Hero of Happiness, the Champion of Cuddles, you hug and comfort us when we get in a muddle.
You make us smile with your special tickles, and make sure our life is full of joy and giggles.
You are King of the Kitchen, and can cook up a storm, keeping us fed and happy, safe, cosy and warm.
We love all the food you give us to eat, even the vegetables, although we love treats!
Thank you dear Dad for all the time that you give, to make our house a home so we love where we live.
You are generous and giving and you spread great joy, inventing silly games and playing with toys!
You are brilliant and brave - the best Dad there is, and when you're not with us, it's you who we miss.
You are King of Excitement, the President of Fun! You deserve a medal… you're our number one.
You are the reason we laugh and giggle when we play, you're our ray of sunshine on a rainy, grey day.
You make life so exciting and help us explore, we love our adventures - and always want more!
Dad, you are incredible, thank you for being you, and doing your best to make our dreams come true.
You are numero uno, the top of our list, we can't wait to cuddle and give you a kiss.
Dad, you rock… us to sleep each night, and make us feel safe when we've had a fright.
You hold us and hug us when we feel upset, you make everything better whenever we fret.
You are the King of our world, you are top of the tree, you're very important to our family.
You are unique and special, you are one of a kind, you are the best in the world, the best Dad you could find.
Dad, we should tell you, you are better than the rest, you're our Super Dad... the best of the best.
You are the King of our hearts, so we'll make a toast - to the best Dad of all, who we love the most. (heart children's names)
The rhyming story says thank you to Dad for all the amazing things he does - from being the King of Kindness, the Captain of Clever, the Hero of Happiness, the President of Fun and the Champion of Cuddles. A perfect gift this Fathers Day.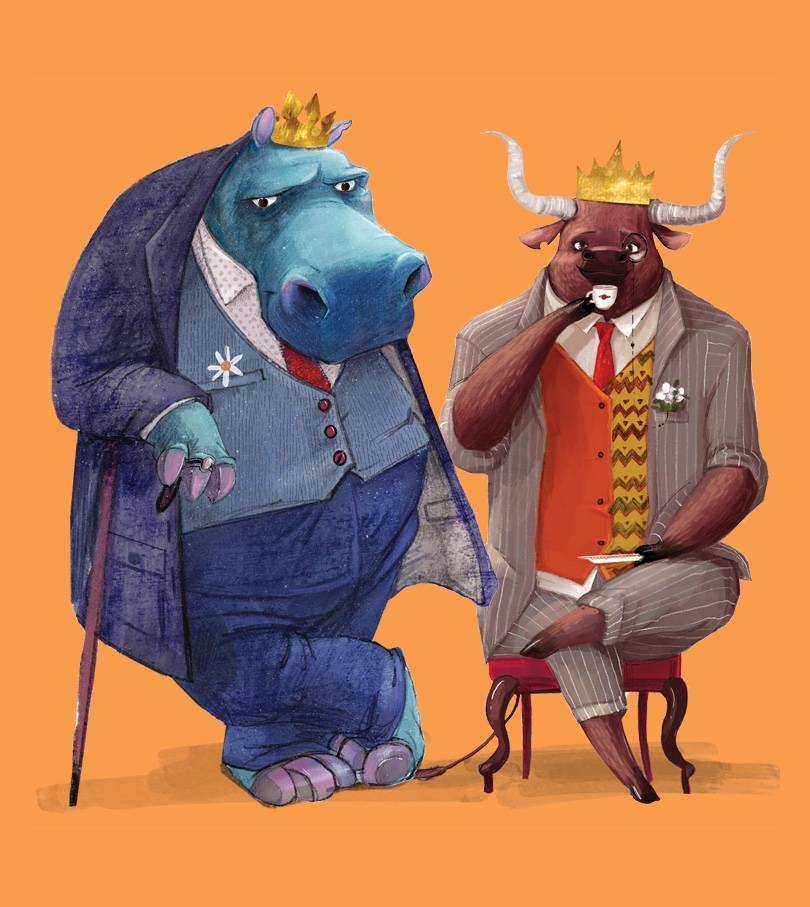 Be the star of your own story
Illustrated with our dapper Dads, dressed to impress and showing why they are amazing. Meet the hippo in a stylish suit, a yak relaxing in the kitchen, bears at bedtime and a rhino bearing balloons. Vibrant and fun, the whole family will love this story of how Dad is the hero in his family.
An absolutely wonderful gift from my little boy to my husband. So personal with being able to add so much detail.
We're obsessed with the quality of our products, from the storytelling and illustrations to the luxurious finish. Choose from a soft cover or upgrade to a beautiful hard cover which is laminated to protect your book.
Size: 210 x 250mm / 8.25 x 10.8 inch
You buy a book and we plant a tree
Your unique personalised adventure is helping to save the world. For every single book we sell, we have committed to planting a tree. We have partnered with Eden reforestation to be part of the climate solution on a global scale.
check out edenprojects.org to see the difference you are making.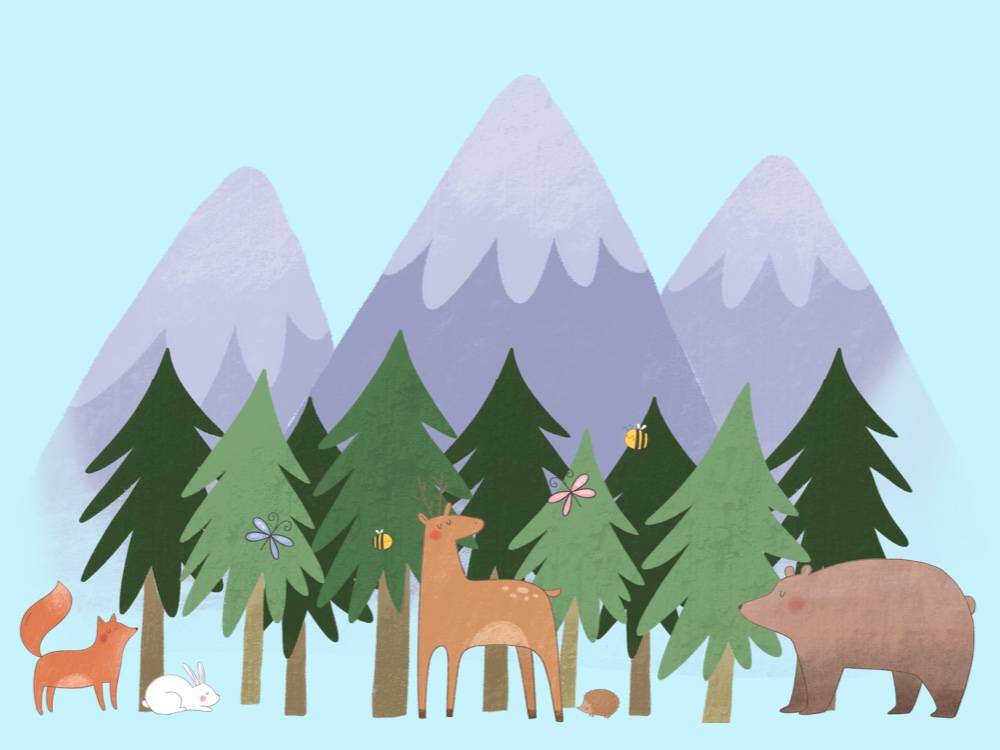 How long will my order take?
After ordering, books take 3-4 business days to produce. If you've selected Express delivery we will then post with a next day courier. If you've opted for Standard delivery we post tracked Royal Mail which takes 3-4 days. For international orders, books to Europe take about 5-7 days, Rest of World about 10-14 days. To help, we show the expected delivery date from when you order at the top of the page under the book's title.
Once dispatched, tracking will be emailed to the email address you provide when placing your order. The book should fit through most letterboxes, however couriers and Royal mail will sometimes leave packages in safe places or with neighbours, so always check your tracking.
I've made a mistake, what can I do?
Unfortunately once you have paid for your book at checkout we cannot make any changes. So be careful when entering your text in the order form - we do not amend spelling! However we know mistakes can happen, so can offer reprints at a reduced price if you need a new copy. Please email us at support@letterfest.com and let us know your changes.
Can I send direct to the someone else?
Yes, at checkout you can enter another address for delivery. We won't include prices in the shipment.
Is the book suitable for multiple children?
Yes! Just select the amount of children the book is from in the first dropdown in the personalise and buy form above.
Can I see a preview of my book?
We show all the pages inside the book in the image gallery so you can see the illustrations and story before buying.
Do you print books in other languages?
We currently only print in English, but sign up to our newsletters for updates, new product launches and discounts. You can find the sign up form at the bottom of this page.
Beautiful book
Absolutely loved this when it arrived. So pleased with the quality of the book and the beautiful illustrations. My children are so excited to give it to their Daddy :-)
Amazing book
The book is of amazing quality, beautifully made. I hope my husband loves it as much as I do!
Just what we wanted
Well produced, charming .
Personalised Greatest Dad in the World Book